Mega*Zine Lost&Found - Interview with Łucja Lange
Mega*Zine Lost&Found is a free online art zine provided to show quality art and culture. The magazine, which is - only in online form has a simple and nice design, with lots of texts to read and much more beautiful pictures of several fields of art such as photography, painting or graphics. There are sections for poetry, prose, music and presentations with galleries and interviews or articles.
The main concept is to spread art, to introduce interesting artists and their works without any commercial and financial influence. The main goal is to share art for free - because it is possible, especially in hard times when You have to decide if You can afford art or live anyhow. The magazine is created by a team of people based in Poland (in different cities) and introduced 5 times a year - 4 issues on quarterly basis and 1 special edition prepared additionally. As far there are 8 regular issues and 1 special edition. Each issue is edited around the concept idea (1. Life inspiration or seeking and finding the purpose; 2. Femininity; 3. Darkness; 4. Rebellion; 5. Crime; 6. We All Gonna Die; 7. Mystery; 8. Emptiness; 2013/SE Surrealist Vision).
And what else? We had a short discussion with Łucja Lange, who is the founder and chief editor of the magazine.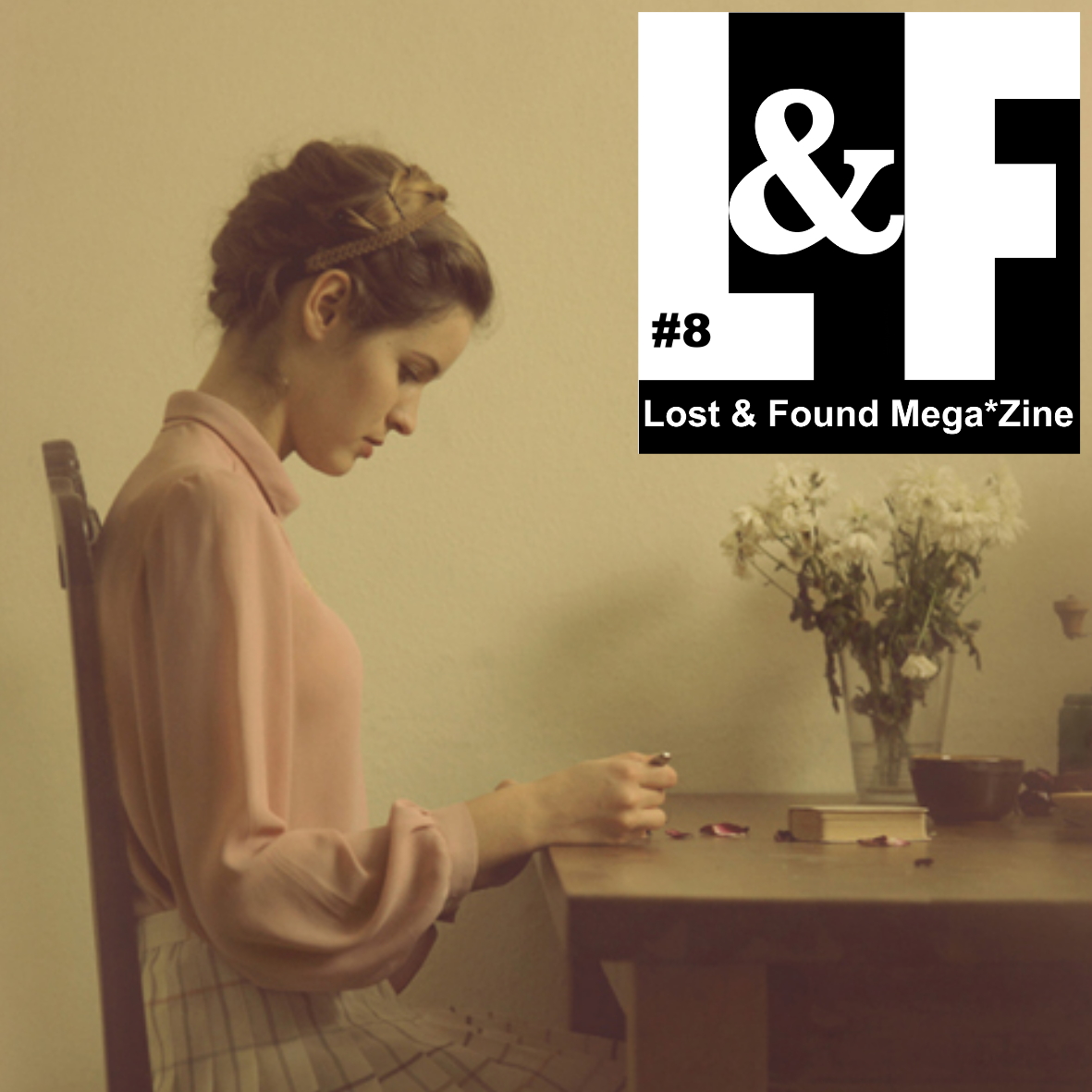 author: Magdalena Franczuk
How did the idea of the art publication get to your mind? How did the story begin?
The idea of an art publication was with me… I think all the time, but with different effects. Many years ago, when the times were different I led a xerographic art zine, which was not enough for me, so I founded second one just for poetry and a small manufacture for poetic publications. All of my work for 5 years was handmade and xerographic. All done only by me with cooperation of random people, who were writing texts. It was the time of letters and postal correspondance. It was great time for me, but as my life was becoming more complicated, and the transition from zines to e-zines was just at the beginning I decided to focus on other things.
This was the first stage 11 years ago… But two years ago I was so bored, that I have asked few of my colleagues and friends if they would like to join my project. The idea is very simple - show art and culture for free. But as the idea is simple, the conduction of such a project is not always easy. Especially when I decided that the magazine I would like to create has to be in English and in Polish. Those two languages need to be the base. If there will be any chance to prepare other translations I can prepare other copies.
So 2 years ago I and some of my cooperators decided to run a magazine. The editors board group is changing, but I think there are few people who got the idea and the cooperation is crucial for the current vision of the magazine.
Do you all have a "real" job and you edit the magazine in your free time, or do you work in the field of art?
It depends. Some of us have jobs different than the things they are doing for the magazine. So they prepare materials for their sections (poetry, comics, polish proofreading) in their spare time. Others work in the fields of art and education (music, English proofreading) but also do the job for magazine in their free time. And there is such a creature like me, rebel - I lead many projects, I rage against corporate work as I worked for corporations for 10 years and feel eaten up… So I just lead my projects, a lot of projects (LOL).
How about Polish contemporary art? Are you or your coworkers part of it? What are the connections with it?
The contemporary art in Poland… The first thing is that I am a little bit ignorant for all that rules (if there are any). I have finished collage with art and journalistic profile. I was taught to write in different styles, I was taught the basic ideas of painting and drawing. I was attending some additional courses on painting, drawing, photography and handmades. I was even prepared to start art studies… But I finished rather theoretical studies than practical art. I'm theatrologist, art conservator, criminologist, auditor and accountant and I hope soon also anthropologist. So I would say I shouldn't be called "an artist". From the other side… Some of my projects are art or craft themselves… That is why I don't use labels for my activities. And I'm not aware of any actions around me. The art doesn't have nationality, my work doesn't - even if it is written/ performed in polish. This is my way of living - I decided that to do what I like it is needed to be 3x T - Tyrant, Titan and Terrorist.
As for my colleagues. Piotr Kasperowicz is part of the poetic world in Poland. He has published recently a book of poems. Jan Gromski is musician and composer. He creates music and has finished the music university too. Piotr Głonik creates comics "Alien Komix" and is a part of Polish comics world.
Is this magazine a unique one in conception?
As I already said - there are base ideas: the magazine if for free, no commercials, no money involved, two languages. I see that within those two years there appeared many magazines, some online, some printed - most involve commercials and payments - if not for the issue, than from the artists to be published. My concept is based on the idea of the population of young people, called by Guy Standing as precariat. Due to the economical problems in Europe many young people, creative people live underpaid or without any work at all. They have some dreams, but the stress connected with their unsure existence causes the constant feeling of hurt. I cannot help them to solve all their problems, but if any person would like to share their work, feelings - I (we as the magazine) give them the place. In that way the concept and magazine itself are unique.
As for the concepts of issues. The editor board decides about the subjects for next issues. And for the special issue - there is a chance for our readers to not only decide about the subject, but also about joining our crew for that one issue. The selection of artists is from what we get or what we choose. Not all artists decide to show their works in L&F - for example some think that the magazine is to cruel and dark. My answer for that - there is no darkness without the light… It is worth to share Your works and be a part of something bigger. And as far as I can say for myself - I may be the worst person on Earth to cooperate with (for many reasons) but I'm truly devoted to my projects and focused on the idea - so I can be sure (if I can be sure of anything at all), that the magazine will exists, at the same time when other titles will vanish.
What is the idea when you choose between several art work? Do you prefer so called darker arts, or…?
I don't choose between. I select artists, who in my opinion can feel the subject. They choose from own works. I don't prefer anything. The magazine is not about my preferences, but about who would like to show their work. If there is more dark art - it means that such artists contacted us. If in any issue they will appear only unicorns, sweet kittens, flowers and rainbows - it will not mean that I'm five cats away from crazy (even thought I am) but rather that we got such art - as the idea is to participate actively in the issues.
Could we say L&F is a success story? What are feedbacks, do you have any goals?
You think now much as for a commercial project, which we are not. Of course we are happy that in time there are more and more people, who would like to publish in L&F, or just reach for the issues to read them but… I stopped counting. The only thing I check (not by purpose, but just because I see it every time I open our Facebook page) is the amount of fans. I think over 900 it is a lot for non-commercial project. For some it may not be much (if they compare with other magazines).
If anyone likes to get in contact it is possible. If anyone likes to join the editors board it is also possible, but with some awareness that we may seem to be playing like kinds in playground, but… we have some obligations, we have time schedule, we provide protection for the art and sign agreements with artists. Everything has its place and time. Everything needs to be done the right way. So not only one idea counts - we need multiple ideas, some courage, a little bit of free time and… a lot of good will. Without it the cooperation won't survive long. Trust me.
As for the feedback - mostly good or even great, with some exceptions which I think are mostly based on traditional thinking. For example recently I got e-mail with opinion (the author wanted it to be constructive criticism, but did not understand the idea of constructive criticism - in my opinion) that I put the text on sides incorrectly… Yes, with the rules for printed magazines. But L&F is ONLINE magazine, done on square form and printing protected. So seeing something which is not "normal" and rating low because we don't follow the rules - sorry… First try to get the concept, than judge if You like it or not. But don't tell me it is done wrong, because You would do it different way - please do. I told You… I'm bad person (LOL).
If I would have to say something about the future… There are 9 issues (8 regular and 1 special) already published. They can be found on our website: http://lostandfound_megazine.vipserv.org. We provide the possibility to read online - from issuu or to download the issues from e-book stores (still for free) or from Deposite Files server. I don't make plans (except plans for topics). I'm open for anything that life will bring. And as we don't need goals, cause goals are mostly for commercial and traditional projects… we may have one - continue working on the project.
So if there is anyone willing to join us - as editor of section or as artists - feel free to contact us anytime You like.
Links:
website: http://lostandfound_megazine.vipserv.org
fanpage: http://lostandfound_megazine.vipserv.org
issuu: http://issuu.com/lostandfoundmegazine
A bejegyzés trackback címe:
Kommentek:
A hozzászólások a vonatkozó jogszabályok értelmében felhasználói tartalomnak minősülnek, értük a szolgáltatás technikai üzemeltetője semmilyen felelősséget nem vállal, azokat nem ellenőrzi. Kifogás esetén forduljon a blog szerkesztőjéhez. Részletek a Felhasználási feltételekben és az adatvédelmi tájékoztatóban.